Development environment and construction
1 Use environment
​ The myCobot 280 for M5 version is developed and used based on PC. There is n built-in system inside the robotic arm, s the combination of the robotic arm and the PC is required during use, s please prepare a PC before use.
2 Development Environment
​ Because the myCobot 280 for M5 version has n built-in development environment, you need t use a PC t install the development environment for the robotic arm.
The following are the development environments supported by myCobot 280 for M5 and the installation and usage tutorials:
​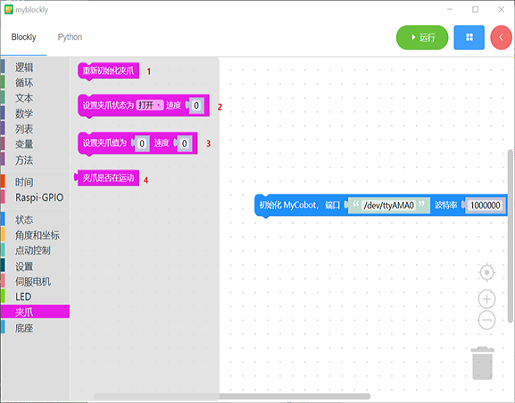 ​
2.2 Developed and used based on RoboFlow The RoboFlow operating system is the operating system of the elephant collaborative robot, providing a human-machine interface (its functions include coordinate control, angle control, io control, trajectory recording, gripper control, etc.).Since the RoboFlow operating system runs in the teach pendant, the user can use the teach pendant as a carrier to manually operate the robot, program and other operations.After users Install RoboFlow ,can be viewed directly Simple use case。
3 Firmware update
​ The basic firmware of myCobot 280 for M5 and the update of Atom firmware need t be updated using myStudio.
Installation and usage tutorial of myStudio: