Starting connection detection (for micro-CPU devices)
1 Applicable devices
myCobot 280-Pi
myCobot 320-Pi
mechArm 270-Pi
2 Operation steps
Burn the latest version of atomMain for Atom.

Create a new Python file on the desktop with a name format of * .py, copy the following codes into it and save it (Here name the file rasp_mycobot_test_gui.py).

Open a controlling terminal and enter the following command:
cd

 Desktop
python3 rasp_mycobot_

test

_gui.py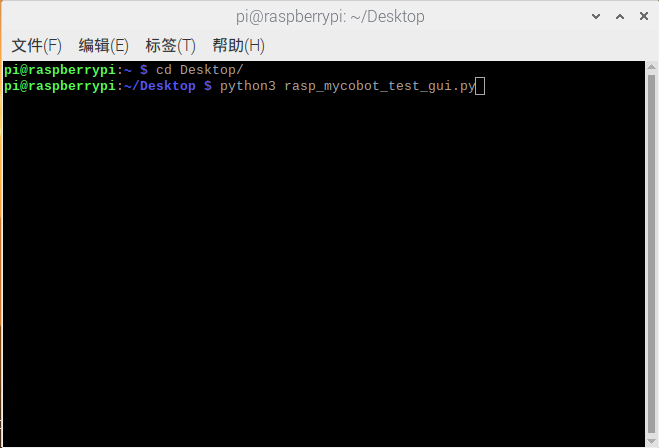 Choose the corresponding serial port and baud rate.

myCobot 280-Pi:1000000

myCobot 320-Pi:115200

Choose the baud rate corresponding to the device, and click Connect.
Set all joints of the robot arm to the zero positions, and click Start detection.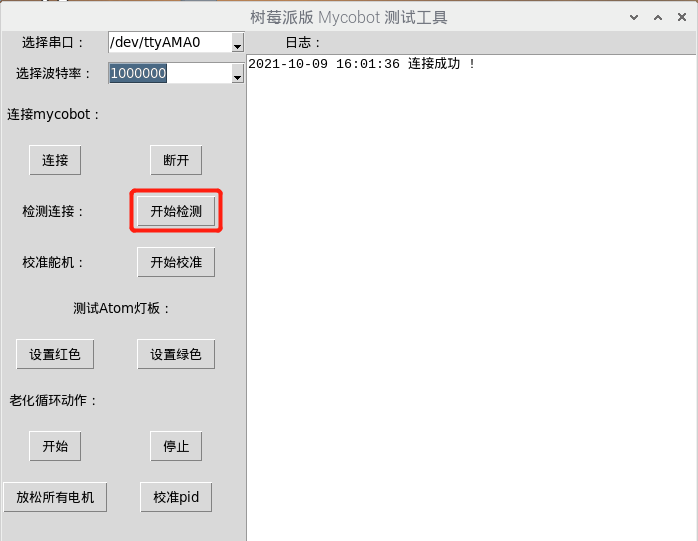 Wait for the interface to show that the joint [7] fails to communicate. The detection of the robot arm is normal.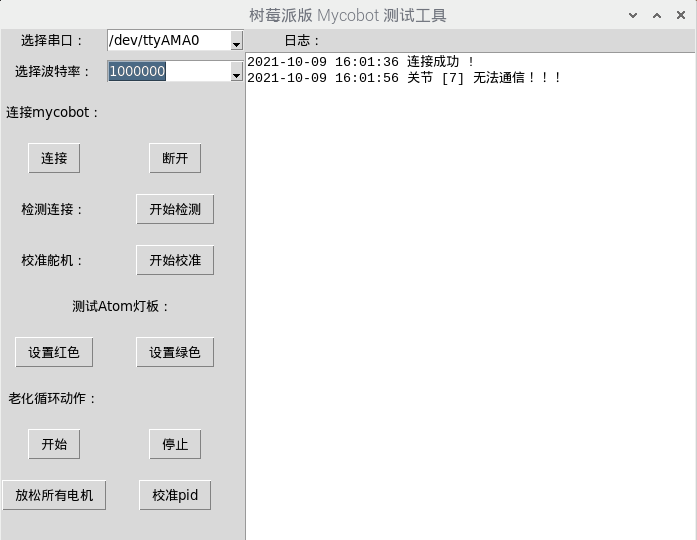 3 Code contents
Notice: This code is rasp_mycobot_test_gui.py. You can download it via GitHub to view it.
Expand and view


#!/usr/bin/env python3
import socket
import tkinter
from tkinter import ttk
import time
import threading
import os
import textwrap
import serial
import serial.tools.list_ports

from pymycobot.mycobot import MyCobot
from pymycobot import PI_PORT, PI_BAUD


LOG_NUM = 0


class MycobotTest(object):
    def __init__(self):
        self.mycobot = None

        self.win = tkinter.Tk()
        self.win.title("树莓派版 Mycobot 测试工具")
        self.win.geometry("918x511+10+10")  # 290 160为窗口大小,+10 +10 定义窗口弹出时的默认展示位置

        self.port_label = tkinter.Label(self.win, text="选择串口:")
        self.port_label.grid(row=0)
        self.port_list = ttk.Combobox(
            self.win, width=15, postcommand=self.get_serial_port_list
        )  # #创建下拉菜单
        self.get_serial_port_list()  # #给下拉菜单设定值
        self.port_list.current(0)
        self.port_list.grid(row=0, column=1)

        self.baud_label = tkinter.Label(self.win, text="选择波特率:")
        self.baud_label.grid(row=1)
        self.baud_list = ttk.Combobox(self.win, width=15)
        self.baud_list["value"] = ("115200", "1000000")
        self.baud_list.current(0)
        self.baud_list.grid(row=1, column=1)

        # Connect
        self.connect_label = tkinter.Label(self.win, text="连接mycobot:")
        self.connect_label.grid(row=2)
        self.connect = tkinter.Button(self.win, text="连接", command=self.connect_mycobot)
        self.disconnect = tkinter.Button(
            self.win, text="断开", command=self.disconnect_mycobot
        )
        self.connect.grid(row=3)
        self.disconnect.grid(row=3, column=1)

        # Check servo.
        self.check_label = tkinter.Label(self.win, text="检测连接:")
        self.check_label.grid(row=4)
        self.check_btn = tkinter.Button(
            self.win, text="开始检测", command=self.check_mycobot_servos
        )
        self.check_btn.grid(row=4, column=1)

        # Calibration.
        self.calibration_num = None
        self.calibration_label = tkinter.Label(self.win, text="校准舵机:")
        self.calibration_label.grid(row=5)
        self.calibration_btn = tkinter.Button(
            self.win, text="开始校准", command=self.calibration_mycobot
        )
        self.calibration_btn.grid(row=5, column=1)

        # LED.
        self.set_color_label = tkinter.Label(self.win, text="测试Atom灯板:")
        self.set_color_label.grid(row=6, columnspan=2)
        self.color_red = tkinter.Button(
            self.win, text="设置红色", command=lambda: self.send_color("red")
        )
        self.color_green = tkinter.Button(
            self.win, text="设置绿色", command=lambda: self.send_color("green")
        )
        self.color_red.grid(row=7)
        self.color_green.grid(row=7, column=1)

        # Aging test.
        self.aging_stop = False
        self.movement_label = tkinter.Label(self.win, text="老化循环动作:")
        self.movement_label.grid(row=8)
        self.start_btn = tkinter.Button(
            self.win, text="开始", command=self.start_aging_test
        )
        self.start_btn.grid(row=9)
        self.stop_btn = tkinter.Button(
            self.win, text="停止", command=self.stop_aging_test
        )
        self.stop_btn.grid(row=9, column=1)

        # Release
        self.release_btn = tkinter.Button(
            self.win, text="放松所有电机", command=self.release_mycobot
        )
        self.release_btn.grid(row=10)

        # rectify
        self.rectify_btn = tkinter.Button(
            self.win, text="校准pid", command=self.rectify_mycobot
        )
        self.rectify_btn.grid(row=10, column=1)

        # Log output.
        self.log_label = tkinter.Label(self.win, text="日志:")
        self.log_label.grid(row=0, column=12)
        _f = tkinter.Frame(self.win)
        _bar = tkinter.Scrollbar(_f, orient=tkinter.VERTICAL)
        self.log_data_Text = tkinter.Text(
            _f, width=100, height=35, yscrollcommand=_bar.set
        )
        _bar.pack(side=tkinter.RIGHT, fill=tkinter.Y)
        _bar.config(command=self.log_data_Text.yview)
        self.log_data_Text.pack()
        # self.log_data_Text.grid(row=1, column=12, rowspan=15, columnspan=10)
        _f.grid(row=1, column=12, rowspan=15, columnspan=10)

    def run(self):
        self.win.mainloop()  # run

    # ============================================================
    # Connect method
    # ============================================================
    def connect_mycobot(self):
        self.prot = port = self.port_list.get()
        if not port:
            self.write_log_to_Text("请选择串口")
            return
        self.baud = baud = self.baud_list.get()
        if not baud:
            self.write_log_to_Text("请选择波特率")
            return
        baud = int(baud)

        try:
            # self.mycobot = MyCobot(PI_PORT, PI_BAUD)
            self.mycobot = MyCobot(port, baud)
            # self.mycobot = MyCobot("/dev/cu.usbserial-0213245D", 115200)
            self.write_log_to_Text("连接成功 !")
        except Exception as e:
            err_log = """
                r连接失败 !!!
                r=================================================
                {}
                r=================================================
            """.format(
                e
            )
            self.write_log_to_Text(err_log)

    def disconnect_mycobot(self):
        if not self.has_mycobot():
            return

        try:
            del self.mycobot
            self.mycobot = None
            self.write_log_to_Text("断开连接成功 !")
        except AttributeError:
            self.write_log_to_Text("还没有连接mycobot!!!")

    # ============================================================
    #  Function method
    # ============================================================
    def release_mycobot(self):
        if not self.has_mycobot():
            return
        self.mycobot.release_all_servos()
        self.write_log_to_Text("Release over.")

    def check_mycobot_servos(self):
        if not self.has_mycobot():
            return

        ping_commands = [
            [255, 255, 1, 2, 1, 251],
            [255, 255, 2, 2, 1, 250],
            [255, 255, 3, 2, 1, 249],
            [255, 255, 4, 2, 1, 248],
            [255, 255, 5, 2, 1, 247],
            [255, 255, 6, 2, 1, 246],
            [255, 255, 7, 2, 1, 246],
        ]
        res = []
        for idx, command in enumerate(ping_commands, start=1):
            self.mycobot._write(command)
            time.sleep(0.1)
            if not self.mycobot._read():
                res.append(idx)
            time.sleep(0.1)

        if res:
            self.write_log_to_Text("关节 {} 无法通信!!!".format(res))
        else:
            self.write_log_to_Text("所有关节连接正常。")

    def calibration_mycobot(self):
        """Calibration button click event.
        Click to calibrate one motor at a time and calibrate in turn. After all
        calibration, resume initialization.
        """
        if not self.has_mycobot():
            return

        if not self.calibration_num:
            self.calibration_num = 0

        self.calibration_num += 1

        self.mycobot.set_servo_calibration(self.calibration_num)
        time.sleep(0.1)
        self.mycobot.send_angle(self.calibration_num, 0, 0)
        time.sleep(0.1)
        self.write_log_to_Text("校准电机 %s 结束." % self.calibration_num)

        if self.calibration_num == 6:
            self.write_log_to_Text("全部校准完成.")
            self.calibration_num = None
            self.rectify_mycobot()
            self._calibration_test()

    def send_color(self, color: str):
        if not self.has_mycobot():
            return

        color_dict = {
            "red": [255, 0, 0],
            "green": [0, 255, 0],
            "blue": [0, 0, 255],
        }
        self.mycobot.set_color(color_dict[color])
        self.write_log_to_Text("发送颜色: {}.".format(color))

    def start_aging_test(self):
        if not self.has_mycobot():
            return

        self.aging_stop = False
        self.aging = threading.Thread(target=self._aging_test, daemon=True)
        self.aging.start()
        # self._aging_test()
        self.write_log_to_Text("开始循环老化测试 ...")

    def stop_aging_test(self):
        try:
            os.system("sudo systemctl stop aging_test.service")
            os.system("sudo rm /home/pi/aging_test.sh")
            os.system("sudo rm /home/pi/Desktop/aging_test.py")
            os.system("sudo rm /etc/systemd/system/aging_test.service")
            os.system("sudo systemctl daemon-reload")
            self.write_log_to_Text("结束循环老化测试.")
        except:
            self.write_log_to_Text("结束老化测试失败 !!!")

    def rectify_mycobot(self):
        if not self.has_mycobot():
            return

        for i in range(1, 7):
            self.mycobot.set_servo_data(i, 24, 0)
            time.sleep(0.1)
            self.mycobot.set_servo_data(i, 26, 3)
            time.sleep(0.1)
            self.mycobot.set_servo_data(i, 27, 3)
            time.sleep(0.1)
        time.sleep(0.1)
        for i in range(1, 7):
            self.write_log_to_Text(
                "Read servo {} pid data, 24:{}, 26:{}, 27:{}.".format(
                    i,
                    self.mycobot.get_servo_data(i, 24),
                    self.mycobot.get_servo_data(i, 26),
                    self.mycobot.get_servo_data(i, 27),
                )
            )
            time.sleep(0.1)

    # ============================================================
    # Utils method
    # ============================================================
    def has_mycobot(self):
        """Check whether it is connected on mycobot"""
        if not self.mycobot:
            self.write_log_to_Text("还没有连接mycobot!!!")
            return False
        return True

    def _aging_test(self):
        """
        Aging test thread target.
        By using in start_aging_test() and stop_aging_test().
        """
        # if socket.gethostname() != "pi":
        #     self.write_log_to_Text("老化测试支持 Raspberry OS.")
        #     return

        aging_test_content_py = textwrap.dedent(
            """
            #!/usr/bin/python3
            from pymycobot.mycobot import MyCobot
            from pymycobot import PI_PORT, PI_BAUD
            import time
            mycobot = MyCobot('%s', %s)
            def aging_test():
                # fast
                mycobot.set_color(255, 0, 0)
                mycobot.wait(5).send_angles([0, 0, 0, 0, 0, 0], 95)
                mycobot.wait(3).send_angles([170, 0, 0, 0, 0, 0], 95)
                mycobot.wait(3).send_angles([-170, 0, 0, 0, 0, 0], 95)
                mycobot.wait(3).send_angles([0, 0, 0, 0, 0, 0], 95)
                mycobot.wait(3).send_angles([0, 90, 0, 0, 0, 0], 95)
                mycobot.wait(3).send_angles([0, -90, 0, 0, 0, 0], 95)
                mycobot.wait(3).send_angles([0, 0, 0, 0, 0, 0], 95)
                mycobot.wait(3).send_angles([0, 0, 140, 0, 0, 0], 95)
                mycobot.wait(3).send_angles([0, 0, -140, 0, 0, 0], 95)
                mycobot.wait(3).send_angles([0, 0, 0, 0, 0, 0], 95)
                mycobot.wait(3).send_angles([0, 0, 0, 130, 0, 0], 95)
                mycobot.wait(3).send_angles([0, 0, 0, -110, 0, 0], 95)
                mycobot.wait(3).send_angles([0, 0, 0, 0, 0, 0], 95)
                mycobot.wait(3).send_angles([0, 0, 0, 0, 165, 0], 95)
                mycobot.wait(3).send_angles([0, 0, 0, 0, -165, 0], 95)
                mycobot.wait(3).send_angles([0, 0, 0, 0, 0, 0], 95)
                mycobot.wait(3).send_angles([0, 0, 0, 0, 0, 180], 95)
                mycobot.wait(3).send_angles([0, 0, 0, 0, 0, -180], 95)
                # middle
                mycobot.set_color(0, 255, 0)
                mycobot.wait(3).send_angles([0, 0, 0, 0, 0, 0], 55)
                mycobot.wait(5).send_angles([170, 0, 0, 0, 0, 0], 55)
                mycobot.wait(6.5).send_angles([-170, 0, 0, 0, 0, 0], 55)
                mycobot.wait(5).send_angles([0, 0, 0, 0, 0, 0], 55)
                mycobot.wait(5).send_angles([0, 90, 0, 0, 0, 0], 55)
                mycobot.wait(5).send_angles([0, -90, 0, 0, 0, 0], 55)
                mycobot.wait(5).send_angles([0, 0, 0, 0, 0, 0], 55)
                mycobot.wait(5).send_angles([0, 0, 140, 0, 0, 0], 55)
                mycobot.wait(5).send_angles([0, 0, -140, 0, 0, 0], 55)
                mycobot.wait(5).send_angles([0, 0, 0, 0, 0, 0], 55)
                mycobot.wait(5).send_angles([0, 0, 0, 130, 0, 0], 55)
                mycobot.wait(5).send_angles([0, 0, 0, -110, 0, 0], 55)
                mycobot.wait(5).send_angles([0, 0, 0, 0, 0, 0], 55)
                mycobot.wait(5).send_angles([0, 0, 0, 0, 165, 0], 55)
                mycobot.wait(5).send_angles([0, 0, 0, 0, -165, 0], 55)
                mycobot.wait(5).send_angles([0, 0, 0, 0, 0, 0], 55)
                mycobot.wait(5).send_angles([0, 0, 0, 0, 0, 180], 55)
                mycobot.wait(5).send_angles([0, 0, 0, 0, 0, -180], 55)
                # slow
                mycobot.set_color(0, 0, 255)
                mycobot.wait(5).send_angles([0, 0, 0, 0, 0, 0], 15)
                mycobot.wait(7).send_angles([170, 0, 0, 0, 0, 0], 15)
                mycobot.wait(7).send_angles([-170, 0, 0, 0, 0, 0], 15)
                mycobot.wait(11).send_angles([0, 0, 0, 0, 0, 0], 15)
                mycobot.wait(7).send_angles([0, 90, 0, 0, 0, 0], 15)
                mycobot.wait(7).send_angles([0, -90, 0, 0, 0, 0], 15)
                mycobot.wait(0).send_angles([0, 0, 0, 0, 0, 0], 15)
                mycobot.wait(7).send_angles([0, 0, 140, 0, 0, 0], 15)
                mycobot.wait(7).send_angles([0, 0, -140, 0, 0, 0], 15)
                mycobot.wait(11).send_angles([0, 0, 0, 0, 0, 0], 15)
                mycobot.wait(7).send_angles([0, 0, 0, 130, 0, 0], 15)
                mycobot.wait(7).send_angles([0, 0, 0, -110, 0, 0], 15)
                mycobot.wait(11).send_angles([0, 0, 0, 0, 0, 0], 15)
                mycobot.wait(7).send_angles([0, 0, 0, 0, 165, 0], 15)
                mycobot.wait(7).send_angles([0, 0, 0, 0, -165, 0], 15)
                mycobot.wait(11).send_angles([0, 0, 0, 0, 0, 0], 15)
                mycobot.wait(7).send_angles([0, 0, 0, 0, 0, 180], 15)
                mycobot.wait(7).send_angles([0, 0, 0, 0, 0, -180], 15)
            if __name__ == '__main__':
                while True:
                    aging_test()
            """
            % (self.prot, self.baud)
        )

        aging_test_content_sh = textwrap.dedent(
            """
            #!/bin/bash
            /usr/bin/python3 /home/pi/Desktop/aging_test.py
            """
        )

        aging_test_content_service = textwrap.dedent(
            """
            [Unit]
            Description=aging-test
            [Service]
            Type=forking
            User=pi
            Restart=on-failure
            RestartSec=2
            ExecStart=/home/pi/aging_test.sh
            [Install]
            WantedBy=multi-user.target
            """
        )

        os.system(
            'echo "' + aging_test_content_py + '" >> /home/pi/Desktop/aging_test.py'
        )
        os.system('echo "' + aging_test_content_sh + '" >> /home/pi/aging_test.sh')
        os.system("sudo chmod +x /home/pi/aging_test.sh")
        os.system(
            'echo "'
            + aging_test_content_service
            + '" >> /home/pi/Desktop/aging_test.service'
        )
        os.system(
            "sudo mv /home/pi/Desktop/aging_test.service /etc/systemd/system/aging_test.service"
        )
        os.system("sudo systemctl enable aging_test.service")
        os.system("sudo systemctl start aging_test.service")

    def _calibration_test(self):
        self.write_log_to_Text("开始测试校准.")
        angles = [0, 0, 0, 0, 0, 0]
        test_angle = [-20, 20, 0]
        for i in range(6):
            for j in range(3):
                angles[i] = test_angle[j]
                self.mycobot.send_angles(angles, 0)
                time.sleep(0.7)
        self.write_log_to_Text("测试校准结束.")

    def get_serial_port_list(self):
        plist = [
            str(x).split(" - ")[0].strip() for x in serial.tools.list_ports.comports()
        ]
        print(plist)
        self.port_list["value"] = plist
        return plist

    def get_current_time(self):
        """Get current time with format."""
        current_time = time.strftime("%Y-%m-%d %H:%M:%S", time.localtime(time.time()))
        return current_time

    def write_log_to_Text(self, logmsg: str):
        global LOG_NUM
        current_time = self.get_current_time()
        logmsg_in = str(current_time) + " " + str(logmsg) + "n"  # 换行

        if LOG_NUM